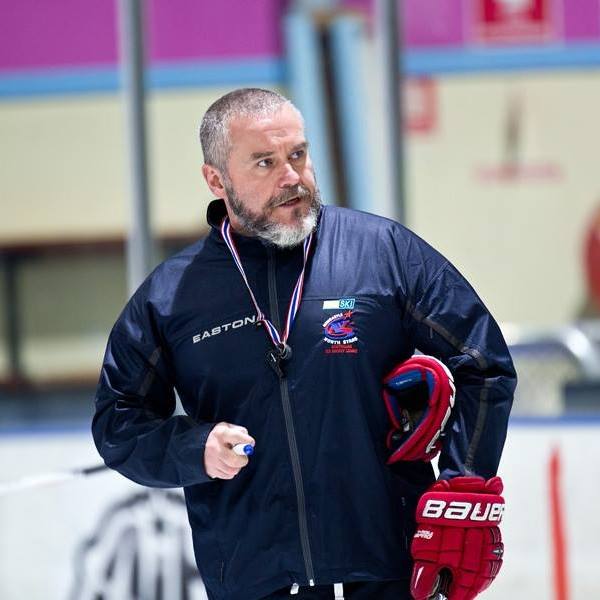 Ice Dogs sign Andrew Petrie as new Head Coach
The Sydney Ice Dogs are excited to announce the return of Ice Dogs Alumni and 2014 head coach Andrew Petrie.  Petrie has a long history with the Sydney Ice Dogs dating back the inaugural season of the club in 2002.  With the AIHL kicking off at the end of his playing career, "Frij" retired after the 2003 season before making a brief comeback with expansion team the Central Coast Rhinos in 2006 where he posted an impressive 17 points in 11 games as a 38-year-old.
To add to a lengthy playing resume across inline and ice hockey at all levels in Australia, Petrie has also coached to the same pedigree.  In 2014, he made his AIHL coaching debut for Ice Dogs resuscitating a sluggish start for the defending champions steering them back into the playoffs. Since then, Petrie has spent three seasons coaching the Newcastle Northstars and leading them to two Goodall Cups.
 "I'm flattered and excited to be coming back to the Ice Dogs, a club that holds a lot of fond memories for me, both as a player and as a Coach. The Club's resurrection, led by the new board makes this an especially exciting and challenging opportunity, and I look forward to working with the playing group to take that next step."
In 2017, Ice Dogs President Chris Blagg took the reins as Head Coach after the departure of Vlad Rubes and Chris Sekura.  With the help of assistant coach Chris Foster, the club improved from 7th to 5th falling just 4 points shy of a playoff spot as the club continues to rebuild. With the signing of Petrie, Chris Blagg will continue his focus as President of the club.
"It was a daunting experience at first coaching at this level, whilst I have had a strong career as a player. Coaching was another thing. It was a great experience for me, Chris Foster was a great help as the Assistant Coach and the team are great and talented bunch. With Frij taking the reins he has proven coaching skills and we look forward to seeing his and the Dogs success for season 18" says Blagg.
"We were very fortunate that he [Blagg] took on the Head Coaching role when no one else would.  The work by him and Chris Foster allowed us to continue our rebuild" adds General Manager Jason Juba.
Ice Dogs fans have a lot to get excited about in 2018.  Despite an injury-ravaged 2017 season the Sydney Ice Dogs still managed to find ways to win and found themselves back in the playoff race.  As the club has restored some balance of veterans and exciting prospects Petrie is excited to get to work in pursuit of a Goodall cup.
 "The goal remains the same; work hard, be accountable and do whatever it takes to build a cohesive and focused playing group who will make sacrifices for each other. If we can achieve that, success will follow. I'm familiar with many of the senior players, Coach Foster is a good friend who sees the game the same way I do, and I have strong relationships with the people on the board who've done so much for the club in recent seasons. I can't wait to get started."
Coach Petrie is joined behind the bench by Assistant Coach, Chris Foster
"Since the start of the 2016 season our goal has always been a Goodall Cup.  It has been quite the rebuild with much adversity, but this move signifies another building block for the club in chasing down another Goodall Cup" finishes General Manager Jason Juba.
---