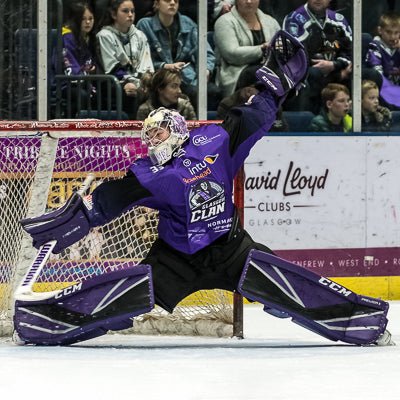 Ice Dogs sign import goalie Joel Rumpel
The Sydney Ice Dogs are proud to announce the signing of import Goalie, Joel Rumpel, for the 2020 AIHL Season. Originally from Swift Current, Saskatchewan, Rumpel is currently playing in the Norwegian League for Stjernen Hockey.
A collegiate standout, Rumpel played with the University of Wisconsin Badgers where he started in goal for four full seasons, including 26 starts as a freshman in 2011/2012.
In 2014, Rumpel was shortlisted for both the coveted Hobey Baker award in 2014, given to the Nation's best NCAA Div1 Men's Hockey Player, and the prestigious Mike Richter award, bestowed upon the league's top goalie. Rumpel's 2014 season record of 21-5-1 with a 1.98 GAA and a sparkling .931 save percentage, was the catalyst for his attention on the National Stage.
In all, he started 116 NCAA games for the Badgers, posting a 2.49 GAA and a .920 Save % before signing an NHL contract with the San Jose Sharks before playing 101 games in the AHL/ECHL. In 2018 Rumpel made the decision to use hockey to travel and signed in the EIHL, where he played for the Glasgow Clan, starting over 70 games in all competitions.
 Ice Dogs Head Coach Andrew Petrie spoke to Rumpel's coach at Glasgow for some background on the goalie. Petrie was immediately sold, offering Rumpel a spot on the Ice Dogs, immediately. Says Petrie of the conversation,
 "I was told Joel would be a great influence in the locker room, popular with his teammates, and that he'll compete every minute of every game." Before continuing, "and it was obvious when speaking with Joel that he's a likeable, low maintenance guy who still has a real passion for the game."
Rumpel stands 6'3" and is reputedly an athletic goalie with sound fundamentals.
 "Ice Dogs fans can expect a positive goalie that loves to win. I feel like I can read the game better than most, and I like to use my frame to make the big saves " said Rumpel.
When asked how he heard about Australia, and how he ended up with the Ice Dogs, Rumpel replied, "from a good friend Scott Pitt. He said it was great hockey and an awesome experience, so I was excited to give it a shot."
Pitt, who played with the CBR Brave during their sophomore season in 2014, placed Rumpel and Petrie in touch, and the deal came together quickly. Petrie believes the Ice Dogs community have landed a gem in Rumpel, who professes finding pleasure in immersing himself in local cultures around the world, stating. "I love getting out into the community and getting to know the fans that make this game such a pleasure to play!" Rumpel will arrive in Sydney in time for the Ice Dogs opening game in Canberra. He will spend the season on Sydney's Northern Beaches with his wife, Alex. The two were married in Saint Paul, Minnesota in 2019. The Ice Dogs community look forward to celebrating the couple's first wedding anniversary in July.
Sign up today to become an Ice Dogs 2020 Member, Your Pack is Calling, Enjoy all the benefits of being a member with either a full season membership or a Flexi 4 game option!
Memberships - https://icedogsshop.com.au/collections/membership
---